Take Notes in Real-time
Write notes and store them for future reference. Perfect way to strengthen customer and prospects relationships.
Contact Sales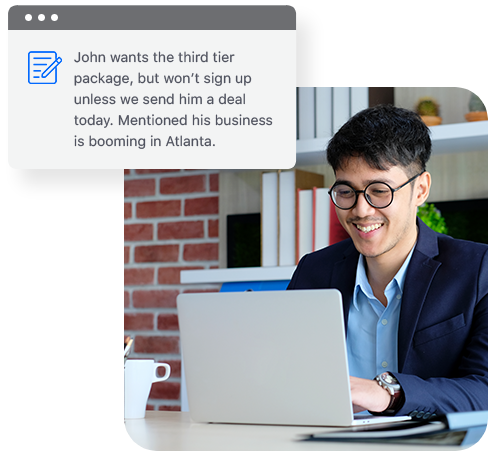 How Create a Note Works
Have you ever been on a call, written a note on some loose piece of paper and been unable to find it later?
You're not alone.
With so many things to juggle throughout the day, it's easy to misplace files and waste time searching for them.
But when that information is the difference between closing a deal or not, can you really afford to risk losing it?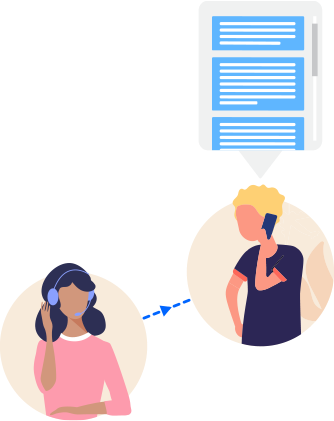 1.

Save Notes to a Contact's Profile to Add Context



2.

Add Notes During Sales Calls to Improve Your Sales Process



3.

Sewing the Seeds for a Bountiful Harvest



4.

Additional Features
Without a way to track client information, you lose sales.
That's why sales teams are migrating to systems that have the ability to take notes while on the phone and store them for future reference.
The ability to take notes inside a customer's profile keeps information organized, so reps can pull up all the notes pertaining to a specific contact while on call with that customer or prospect.
DYL's Create a Note feature lets you type, write, and save information on thousands of contacts in your database.
It's the electronic equivalent of paper sticky notes.
Combined with VoIP, and cloud-based marketing software, DYL is the best business growth platform with over 80 other features designed for sales, service and marketing teams.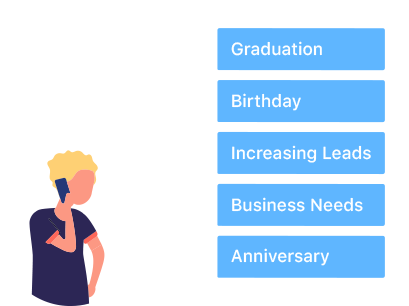 Save Notes to a Contact's Profile to Add Context
Business success relies on good customer relationships.
Create a Note is an affordable way to build and galvanize those relationships for the entire lifetime of the customer, while on the phone.
For example, if a prospect is unsure whether or not to buy, ask them why. Jot down the note in their profile and then craft a quick pre-customized text message to follow up.
If a customer shares personal information, like an upcoming graduation, birthday, business need, or anniversary, make a note of it in their profile. Other staff members can then use those notes when speaking with the customer next time.
DYL's Create a Note lets you and your teammates see all the notes taken from previous calls, so everyone can answer the customer's questions with confidence.
Without the ability to store notes, customers have to repeat their issues each time they call or are transferred to another rep.
This is a sure fire way to chase customers away, because nobody likes having to repeat themselves.
Who needs DYL's Create a Note? Business leaders looking for ways to help teams strengthen prospect and customer relationships.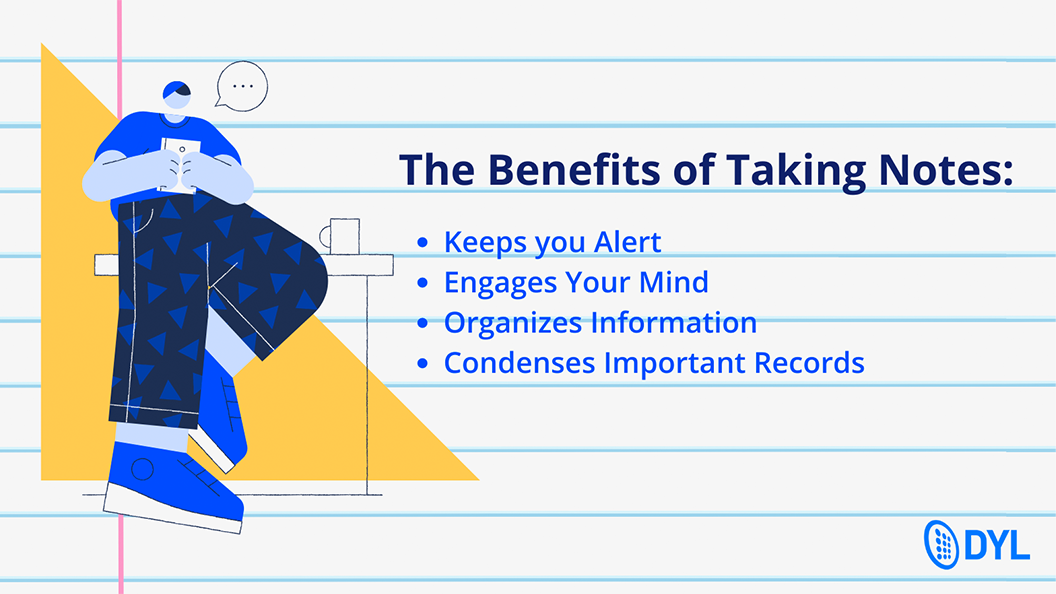 Adding Notes During a Sales Call Improves Your Sales Process
The advantages of taking notes are plenty.
First off, by having access to each client's call history, you get a sense of what each client is looking for, thus how to assist them.
Notes also let you keep detailed information about each client. The more a sales rep knows about their needs, the better they can help them accomplish their goals.
This streamlines sales, because every contact profile comes with its own specific set of notes. It's like having a file folder with everything you need to know about the customer.
Best of all, these notes are accessible by any team member, so if someone is out of the office or can't take a call, the next available rep can address the call, notes on screen, with confidence.
DYL organizes notes in order, placing the most recent notes at the top, so you always know the client's latest status.
Simply open DYL's platform and all your notes are right there.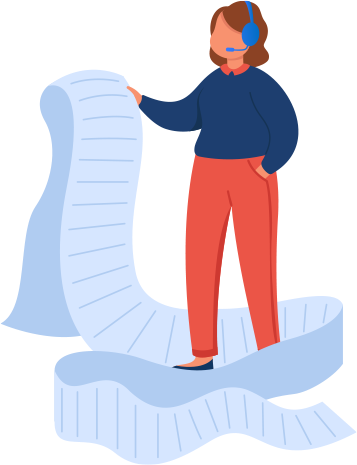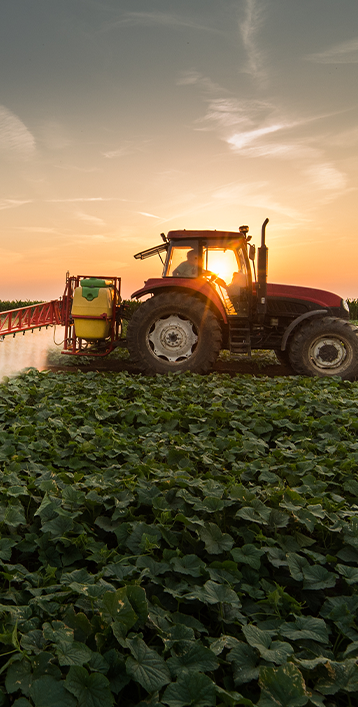 Sewing the Seeds for a Bountiful Harvest
Andrew Schaffer inherited his family's business, four generations after its first seed was planted.
And one of his first tasks as CEO of Purple Meadow Farms, was to reverse the steady decline in sales over the past several years.
As it turned out, the root of the problem was that his great grandfather grew the business the old fashioned way - one firm handshake at a time. And that was fine back when everybody knew your name, but if Andrew wanted to expand his distribution to other regions, he needed a better way to store and track his communications.
So he searched for a business communications platform that enabled his sales, customer service and marketing teams to take and keep notes of all their interactions for easy access.
The answer was DYL's Create a Note feature.
Combined with DYL's VoIP business phone service and team chat, Schaffer's teams could share vital information with each other and external sources to follow up on new contracts and schedule deliveries.
And because DYL's all-in-one platform is a sales CRM and marketing platform, all rolled into one, his entire team could easily stay in touch even when out in the field meeting with distributors.
With a 22% increase in productivity and 33% jump in revenue since, Purple Meadow Farms hopes to see continual growth for many generations to come.
DYL's All-in-One Platform includes over 80 Customizable Features