Western Ohio is in the 937 and 326 area code. The area code covers Dayton, the metropolitan area, and surrounding cities.
Produce long-lasting relationships with a local 937 and 326 number.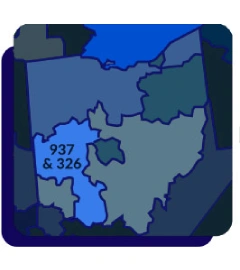 Transform your business with a simple fix. Choose a number located in the 937 and 326 area code and you'll see results within weeks. Find the connection your customers have always wanted. Without a local number, it's difficult to resonate with regional crowds. But with a phone number they recognize, they'll be more open to speak with your team. With more than 1 million people living throughout Western Ohio, you can grow your business with bigger results. If you're looking to spend time across Western Ohio, you can jump to the past at the National Museum of the US Air Force in Dayton, enjoy drama at the Benjamin & Marian Schuster Performing Arts Center, or tour the former bike shop of the wright brothers at The Wright Cycle Company Complex.
The 937 and 326 Area Code of Ohio has plenty of activities to offer, including eating out at 2nd Street Market, exploring your artistic abilities at the Dayton Art Institute, and gazing upon the majestic animals at the Aullwood Audubon Center. Many of the surrounding cities are supported by health partners, Montgomery county, and community colleges.
The majority of occupations within the area are Administrators, sales staff, and healthcare practictioners. Premier Health Partners employs more than 12,000 nurses, administration staff, and doctors. The weather typically fluctuates between 60 to 105 Fahrenheit in the summer and 5 to 60 Fahrenheit in the winter time.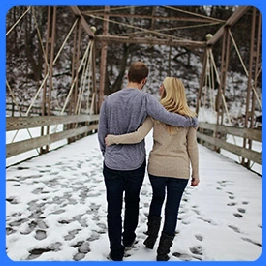 Home of Airplanes…DYL welcomes you, Western Ohio!

Western Ohio is filled with history like no other place in the world. Consumers are more likely to trust local businesses by 9% versus large corporations. The 937 and 326 area code has a large economy that has been supported by Wright-Patterson Air Force Base, Kettering Health Network, and The Kroger Company. In 2020, the average household size was 2.26 and the average family size was 3.03. The surrounding communities established the 937 and 326 area codes in September 1996, splitting off from area code 513. Beginning August 10, 2019, subscribers were encouraged to dial ten digits for calls within local communities. In February of 2020, seven-digit dialing ended.
Western Ohio's history spans from the early 1800s. As a place of innovation, many integral things have been invented within the surround area such as cash registers, aviation, and the hydraulic jump. Many of the surrounding areas were the first to use such innovations and had access to faster growing economies because of the boom of inventions.

Several industries account for most economic impact within Dayton and surrounding communities. To name a few, defense and aerospace, as well as healthcare, account for much of the Dayton area's economy. Premier Health Partners contribute to more than $2 billion of annual economic impact because of operations, employment, and expenditures.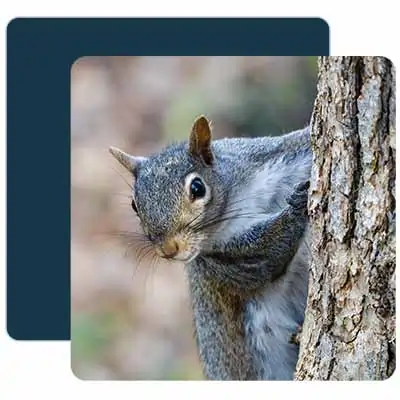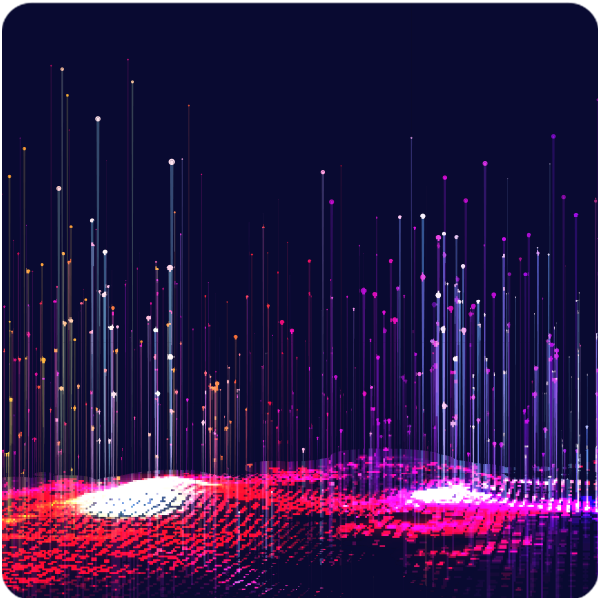 In 2021, the 937 and 326 Area code's employment numbers total 357,000 people, with an unemployment rate of 5.2%. Food prices increased 5.1% from November 2020 to November 2021. The median household income was $37,401 for the year of 2019 with an average median home price of $98,562. The cost of living was 28.3% less than the national average, with a 4.6% job growth from 2020 to 2021.
React Quickly to Feel The Proven Platform of DYL:
Instantly appear local to over 1 million people.

Build a trustworthy regional look within seconds.

Don't wait for days to experience an activation. With DYL, you can use your account immediately.

Over 80 other features, including text messaging, email automation, call monitoring, and management reports are always covered with DYL's VoIP phone services.

Go anywhere in the world with just a computer.

Quick to Learn and Quick to Grow.
The Extra Goodies in DYL's Platform
With DYL, all customer and lead communication is through one platform. No more having to send texts on platform A, do email marketing on platform B, and call on platform C. Instead, it's all available through DYL's single-login system. Want to send some paperwork via email or fax? Easy. Connect your email and you're setup for instant savings. But here's the best part: you don't even need a lot of equipment. All you need is a computer and a headset. In most cases, you don't even need a headset. All of a sudden, you can be in Thailand talking to your loyal customers located in Dayton, Ohio.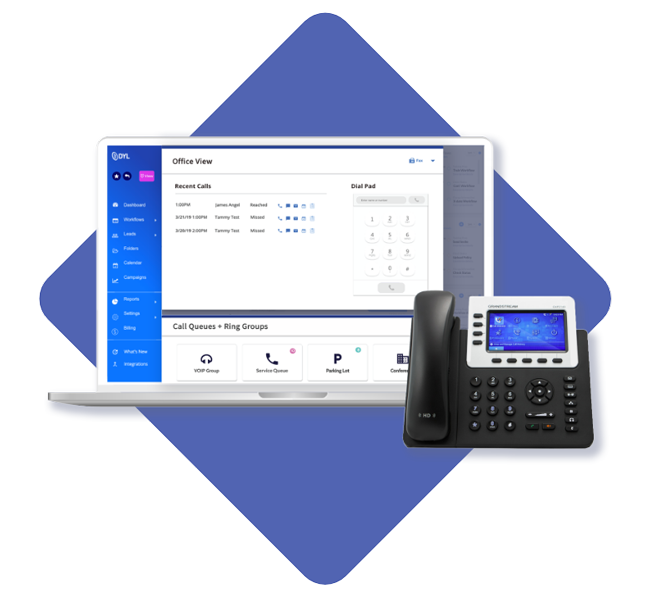 DYL's online platform come with 80+ tools and features to grow your business. This includes lead management software, customer tracking, call barging, and pipeline reports. Talk or communicate with your team with Team Messaging or Conference Calls. Use our Power Dialer to effortlessly call hundreds of people a day. No answer? No problem. Quickly drop pre-recorded voicemails to people on your campaign list. DYL is customizable to suit your needs.

Regardless of your size, DYL fits to your needs! DYL connects managers with updated information daily so they can see their department's activity. Find out what your entire staff is doing at a glance. Want to find out who is available and who is on a call? Use Call Center Dashboard to find out exactly what your staff is doing. But the best part is, whenever a new prospect calls, they're automatically routed to the department who can help them best. Our Call Routing Service and Virtual Receptionist ensure 99% of your prospects end up in the right hands.
Satisfied Customers Mean Bountiful Profits
Improve your revenue with little effort. Reach new heights and ensure your teams are more resourceful. Create automated sequences and workflows to improve team performance and ensure duties get done when required.

If you have any questions, our sales team and support staff are one phone call away. Discover the advantages with one of DYL's affordable packages. Perfect for all companies of any size.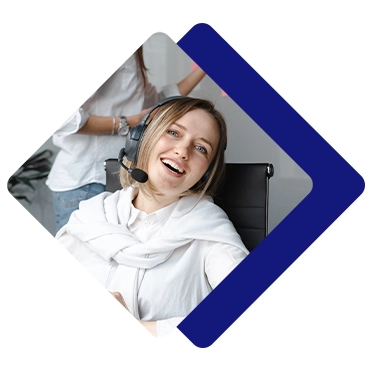 The Guaranteed Advantage with a 937 and 326 area code is a no-brainer.
Tap into the regional 937 and 326 area code with DYL VoIP services. We can set you up with whatever you need - whether it's a business phone or the DYL platform, complete with all the features and benefits that over the years.
Call us at (855) 357-9249 today to get started.
See DYL in Action