Generating Life Insurance Leads
With Grayson Thompson, Blue Vase and New Business Award Winner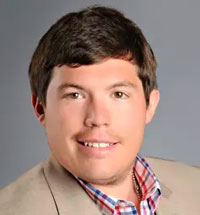 Grayson Thompson
Agency Owner
Farmers Insurance
---
At just 20 years old, Grayson was easily one of the youngest Farmers agents out there. In just 7 years, he has become one of the top agents in the Ohio area earning the coveted Blue Vase and New Business awards. Being so young, Grayson felt the push to step outside the box and find innovative ways to write contracts and generate leads. Grayson sat down with DYL to help give other agents some insight into his winning life insurance lead generating process.
In this exclusive webcast with DYL, you'll learn his methods for:
• Automating successful email and phone campaigns
• Write more policies with less effort
• Generating cross sales techniques
• Launching effective social media campaigns
• Training effective and accountable team members
• Effective team management
• Utilizing DYL software to streamline, simplify and organize
• Build amazing lead follow up system
Features - Email and Phone Campaign Automation:
• Send your leads emails and call them as soon as they enter DYL's system
• Be the first to reach your high valued customers with lead scoring and other smart call routing features
• Send emails to your customers that are personalized towards their background
Call to get more information from a sales specialist.
1.855.357.9249
Or, fill out your information to have one of our sales professionals contact you.
Due to the saturated life insurance market, Grayson has developed innovative ways to generate leads and maximize their potential. He believes DYL has given him the ability to focus on the more important lucrative writing of policies rather than being bogged down by paperwork. Following up on leads with various communication platforms can be simple and straightforward, no more leads slipping through the cracks. Sending and receiving crucial policy information via text message has increased rate and ease of document processing. If more freedom with higher revenue and client retention is your goal, call DYL today at 888-357-9249 for your 1 on 1 demo!