The Technology of Insurance Sales
With David Offutt, Multi-Award winning Farmers Agent

(Toppers, Championship, AAA), teaches realtor CE courses and author of "Understanding Insurance in Simple English".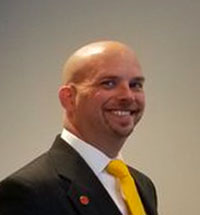 David Offutt
Agency Owner
Farmers Insurance
---
David has always been a techy-sales person, believing that streamlining and automating the sales process is the only way to do business. Beginning his insurance career in 2008, he began with 4 lines on an antiquated key system using different numbers with personal cell phones used for texting. David is passionate in his business and having the latest equipment and technology.
In this exclusive webcast with DYL, you'll learn his methods for:
• Writing more policies with minimal effort
• Building a transparent and accountable team
• Creating new business through lead generation & referrals
• Protection from E&O Claims
• Building, sorting and qualifying referral databases
• Increase sales ability while decreasing service work
• Effective text message sales
• Obtaining personal referrals from each client
Call to get more information from a sales specialist.
1.855.357.9249
Or, fill out your information to have one of our sales professionals contact you.
Learn David's favorite DYL features and how he used them to benefit and grow his business into one of the leading Farmers agencies. DYL seamlessly integrates with your existing software to make populating complicated forms simple and straightforward. Optimize your phone system for the ultimate business platform. Learn how David utilizes other features to run his agency such as, work anywhere technology and call recording. Streamline and simplify while simultaneously increasing your revenue and public image with DYL Business Phone Service. Call DYL today at 855-357-9249 for your 1 on 1 demo!